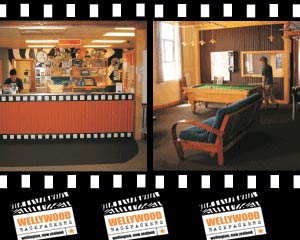 Click on the thumbnails below to view enlarged


You may drag the map or use the buttons to move/zoom

Download contact details to your Address Book
Average Rating:

(0 votes)

Wellywood Backpackers is located in the heart of Wellington City, where the theatre, cinemas, public transport, Te Papa Museum and of course, the Capital's vibrant night life are all within 5 minutes walking distance.
Back at Wellywood Backpackers, we welcome guests from all walks of life. There is plenty of space for different interests; relaxing, meeting up with fellow travellers and much more. Socialising is easily done in our great common area. We have a collection of DVDs and books for your enjoyment.
Features and facilities of Wellywood Backpackers include:
Free, unlimited, 24 hour high speed internet
Free short term storage and possible long term storage
Spa pool
Well equipped kitchen with gas ovens, microwaves and hobs
Daily housekeeping throughout the hostel
Large open social common area with fire place and comfy sofas
Two satellite T.V. rooms
DVD player
Excellent high-pressure hot showers
Heaters in every room
All these facilities are here to give you the best, most enjoyable stay in Wellington!

View more Hostels & Backpackers in Wellington

Find things to do in Wellington