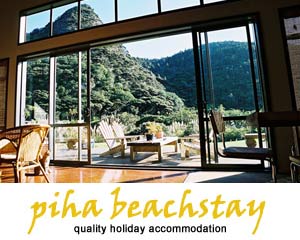 Click on the thumbnails below to view enlarged




You may drag the map or use the buttons to move/zoom

Download contact details to your Address Book
Average Rating:

(0 votes)

Piha Beachstay offers relaxing holiday accommodation by the beach for International and Local visitors. Piha Beachstay may be described as a self-catering lodge, a homestay or a backpackers, however I think writer Amy Taylor described it best in her article for Curl Magazine as, "someones very stylish beach house that you can stay at anytime you like."
Piha and the surrounding area are nature's playground for surfers, swimmers, hikers, and beach-lovers alike. Whether you explore the subtropical rainforest and waterfalls, go surfing or just simply relax and enjoy the magnificent sunsets, there is something here for everyone.
Piha Beachstay is available as a holiday house and is great for families and small groups, or as a venue for retreats, workshops and team development.
Features and facilities of Pihia Beachstay include:
Safe Off-street Parking
Walking distance to beach and all amenities
Broadband internet and wireless access
Surfboard Hire
Open wood-fireplace
Local Artwork
Linen provided for all private rooms
Ensuite bathrooms available
Bunkroom
Laundry

View more Hostels & Backpackers in Auckland

Find things to do in Auckland