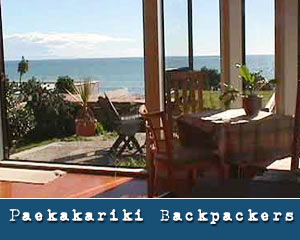 Click on the thumbnails below to view enlarged




You may drag the map or use the buttons to move/zoom

Download contact details to your Address Book
Average Rating:

(2 votes)

Paekakariki Backpackers comfortably accommodates 17 adult and child guests in 6 rooms (two houses)—and has generous indoor/outdoor cooking, dining and relaxing areas. With views, sunsets!
Walk up the path (or take the 35 steps) to our hilltop hideaway and be rewarded with great sea views across Cook Strait to the South Island, spectacular sunsets and a 2 minute walk to a long, uncrowded sandy beach.
The pond has goldfish, blue penguins sometimes sleep beneath the share room—and there's an Axolotl (Mexican walking fish) in a tank you can watch too.
Passing through Wellington but don't want to stay in the city?
Then visit our lovely coastal village 30 minutes north of Wellington on State Highway 1 (with trains every 30 minutes to/from Wellington).
Our local village has 3 restaurants (and another one 20 minutes walk down the beach), two fish and chip shops, a bar, and fruit/vegetable and grocery shops. For more extensive shopping and entertainment (movies, etc.) the Paraparaumu Shopping Centre is 10km up the road. Local attractions include the Amazing Fly-By-Wire, Kapiti Cheese Factory, Nyco Chocolate Factory, Kapiti Island Bird Sanctuary and 4x4 hire.
Features and facilities of Paekakariki Backpackers includes:
Internet
One dog (very friendly labrador), three cats, goldfish, and an axolotl.
The private rooms are locked (by you) and we can provide safe storage for those in shared rooms
Fully equipped kitchen
Open-plan living area with wood-burning fireplace
Outdoor decks and lawn areas with tables and chairs for lounging/outdoor dining
Trampoline
Coin operated laundry
Close to Wellington if you need it. A world away if you don't.

View more Hostels & Backpackers in Wellington

Find things to do in Wellington