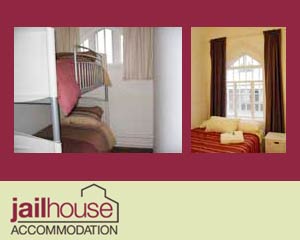 Click on the thumbnails below to view enlarged



You may drag the map or use the buttons to move/zoom
Jailhouse Accommodation
Address:
338 Lincoln Rd
,
Christchurch
Canterbury
New Zealand
Phone:
(03) 982 7777
Website:
http://www.jail.co.nz

Download contact details to your Address Book
Average Rating:

(0 votes)

Go directly to jail! Jailhouse Accommodation was originally built as a prison in 1874. The building is a prime example of "Gothic Revival" architecture, close to Hagley Park in Christchurch.
Jailhouse Accommodation has single rooms, twin bunkrooms, double/twin rooms, and family rooms. There is a conference room available and the facilities cater well for sport teams or groups.
Features and facilities of Jailhouse Accommodation include:
Super comfortable beds
Central Christchurch location
All rooms have separate key access
Free Parking
Unique history including historical display rooms
TV lounges, including big screen TV
Internet
Commercial styled kitchen ideal for sports groups etc
Laundry and DryCleaning Services
Conference room available
Gothic style architecture, unique history including historical display rooms

View more Hostels & Backpackers in Canterbury

Find things to do in Canterbury