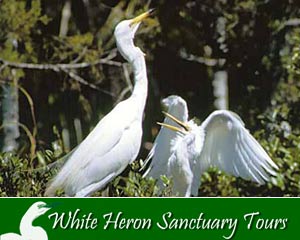 Click on the thumbnails below to view enlarged




You may drag the map or use the buttons to move/zoom

Download contact details to your Address Book
Average Rating:

(0 votes)

The Waitangi Roto Nature Reserve is a sanctuary to most of the bird life that you will see in the South West Heritage Area. The pristine rainforest, predominantly Kahikatea, stands tall, and shows off it's untouched beauty. During the summer months, the majestic Kotuku (White Heron) can be viewed, in all it's pluming glory as it nests in the swamp forests on the banks of the Waitangi Roto Stream. The Kotuku Ngutu Papa (Royal Spoonbill) and the Kawapaka (Little Black Shag) also take advantage of this prime spot to rear their young.
Tours to the White Heron Colony open late October and the Kotuku disperse from the colony about the end of February/Early March each year.
The round trip tour from the Whataroa office, back to the office, takes approximately 2½ to 3 hours. The tour consists of a short minibus ride to the river to connect with the jet boat. The jet boat ride is a gentle 20 minutes each way. From the jetty it is just a short boardwalk (500mtrs) through native bush to where you can stay for 30-40 minutes to view the birds. Tours run under concession with the Department of Conservation. Entry is by Permit Only. All tours are accompanied by a guide. Wet weather gear provided.
In addition to this there are a huge range of other birds to be seen, or heard, on the tour. Along the way you will also see some of our beautiful and unique New Zealand flora.

View more Bird Watching Holiday Activities in West Coast