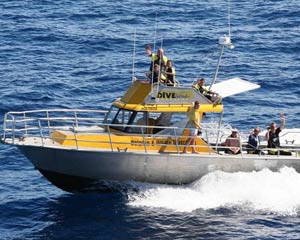 Click on the thumbnails below to view enlarged



You may drag the map or use the buttons to move/zoom

Download contact details to your Address Book
Average Rating:

(0 votes)

Come join Whale Island Tours on a Swim with Dolphins or Eco tour and enjoy what many have called, "Our Best New Zealand Experience". Whale Island Tours operates from a fast, stable and safe boat. They are family friendly and child safe, and cater for smaller groups (Max 15).
During the warmer months from November to April, 1000s of dolphins and other marine mammals and Pelagics visit our part of the Pacific ocean to join the abundant marine life surrounding the geothermally warmed seafloor near the White Island volcano.
Come Dolphin and Whale watching in Whakatane, a tourist town in the Eastern Bay of Plenty, North Island in Godzone New Zealand. Whakatane is only 75 minutes travel East from the centres of Rotorua or Tauranga.
Dolphin Watching and Swim With The Dolphins
Dolphin and Whale Watching trips are run on a twice daily basis in peak season Jan/Feb and as required otherwise (weather and sea conditions permitting). Whale Island Tours provides snorkle equipment, wetsuits, fins, masks for those who want to enter the water or you can observe the dolphins from the boat. Many other species of marine animals are often spotted on the trip too!
Dolphins and Whale Island Eco -Tour (2 hours)
Whale (Moutohora) Island 7kms off the Whakatane shoreline is a geothermally active remnant of a complex Marine Volcano. It is rich in geological and human history both Maori and European. Once privately owned and almost barren it is now a wildlife sanctuary administered By the Department of Conservation and local Ngati Awa Maori. The Island and it's surrounds are rich in rare and unique New Zealand wildlife including the living dinosaur lizard 'The Tuatara'. The tours circumnavigate the Island with an extensive commentary on the colorful history, flora and fauna. Travelling to and from the island can offer opportunities to view Dolphins, Whales, Seals, penguins, gannets, schools of fish and much more life that is abundant in our waters.
Dive Whale Island (2-4 hours)
Whale (Moutohora) Island offers many wonderful Diving and Snorlelling opportunities. Depths ranging from 2 - 50 meters and visability occassionally to match. Excursion passengers only are welcome. If you fancy getting in the water then snorkle equipment, wetsuits, fins, masks are available for hire. White Island Tours have some dive equipment but can supply all equipment from an independant hirer if required
Whale Island Tours are 100% locally owned and operated with 20 years of local marine knowledge and experience.

View more Dolphin Swimming Holiday Activities in Bay of Plenty