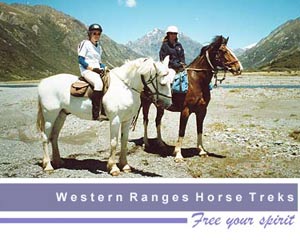 Click on the thumbnails below to view enlarged



You may drag the map or use the buttons to move/zoom
Western Ranges Horse Treks
Address:
Baton Valley RD2
,
Wakefield
Tasman - Nelson
New Zealand
Phone:
(03) 522 4178
Website:
http://www.thehorsetrek.co.nz/

Download contact details to your Address Book
Average Rating:

(0 votes)


Experience being at one with horse and environment at Western Ranges Horse Treks. The spectacular scenery and tranquility will leave you refreshed in body, mind and spirit.
Because most of the treks involve several river crossings and take you into wild and challenging places Western Ranges Horse Treks don't have set treks. Weather, river levels, and ground conditions in the bush are often changing. Having the Ellis, Baton, Skeet, McCarthy and Clarke valleys gives the company a huge scope to personalize a special trek to meet the needs of each small group on the day. With a maximum of five clients on each trek their whole operation has its focus on quality. Small is beautiful.
Visions abound in this inspiring environment. Access to many thousands of acres,the options for their journeys are many and they tailor the treks to personally fit each small group. The terrain ranges from verdant farm land to challenging wild places. Exhilarating ridge rides through native bush take you towards the tops. You'll explore five peaceful valleys with their unspoiled rivers.
The team of top horses include Clydesdale thoroughbred and anglo-arab Clydesdale crosses, Welsh cobs, Irish hunters Arabs and appaloosas. They have twenty horses in the team with foals and youngsters coming up in their breeding program. They are freemoving well schooled and love their work.
Western Ranges Horse Treks takes the time to match you with a horse compatible with your riding ability. They specialise in providing well-schooled, free-moving horses for advanced riders.

View more Horse Treks Holiday Activities in Tasman - Nelson