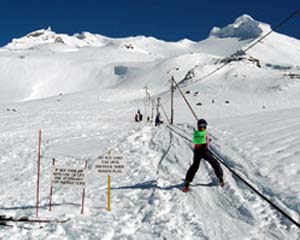 Click on the thumbnails below to view enlarged


You may drag the map or use the buttons to move/zoom
Tukino Ski Field
Address:
Mount Ruapehu
,
Tongariro National Park
Ruapehu
New Zealand
Phone:
(06) 387 6294
Website:
http://www.tukino.co.nz/

Download contact details to your Address Book
Average Rating:

(0 votes)

Nestled on the eastern slopes of Mt Ruapehu in New Zealand's North Island, Tukino Ski Field offers the rare combination of adventure and lack of crowds, coupled with the friendliness and camaraderie that's only found on club-operated fields. Tukino is a club ski field, operated and maintained by club members.
Day visitors are always welcome at Tukino, or you can stay a little longer with our Ski and Stay packages.
The Tukino slopes are sheltered from the prevailing westerly winds and the field is often operating in clear weather when the rest of the mountain is blanketed in cloud.
For the early riser, snow conditions are very pleasant in the mornings thanks to the warmth of the morning sun. This does not mean slushy snow later in the day though, as Tukino maintains a relatively constant temperature due to being in a fairly open area.
The snow ratings are 65% beginners, 30% intermediate and 5% advanced.
Tukino offers ski lessons for anyone from beginners to advanced skiers and snowboarders. Lessons are customized to take advantage of the local terrain and cater to the individual or group needs.
Comfortable on-mountain accommodation is provided in two modern ski lodges at Tukino. You can ski right to your door! The Aorangi and Desert Alpine lodges have a friendly, warm atmosphere and full facilities.
Head north from Waiouru along the Desert Road for 22km or south from Turangi for 46km. There is a signpost marked "Tukino Ski Field." Turn here and follow this road across the desert for 7km to the Base Camp car park. 2WD vehicles must not proceed past this point. For 4WD vehicles only, the road continues for another 7km up the mountain to the Tukino village. If you do not have a 4WD, we may be able provide transport for you up the Tukino Mountain Road. Please ask about the availabilty of mountain transport when you make a Ski and Stay package booking.

View more Skiing & Snowboarding Holiday Activities in Ruapehu