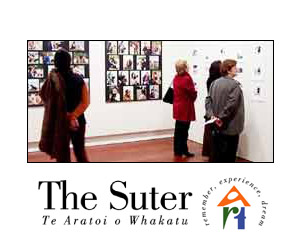 Click on the thumbnails below to view enlarged



You may drag the map or use the buttons to move/zoom
The Suter - Nelson Region's Art Museum
Address:
208 Bridge Street
,
Nelson
Tasman - Nelson
New Zealand
Phone:
(03) 548 4699
Website:
http://www.thesuter.org.nz

Download contact details to your Address Book
Average Rating:

(1 votes)

The Suter Te Aratoi o Whakatu has the third oldest collection in the South Island of New Zealand. Works of national significance include works by nineteenth century watercolour artist John Gully, works by Sir Tosswill Woollaston, who was one of the founders of modern art in New Zealand, and ceramics by New Zealand and local artists. There is also a handsome portrait of Huria Matenga by Gottfried Lindauer, painted in 1909.
Sir Tosswill Woollaston, born in 1910, is renowned for his contribution ot the development of art in New Zealand. Woollaston and Colin McCahon, whose work is also in the Suter collection, were important members of a group of artists and writers who, in the 1930s and 1940s, explored notions of a New Zealand culture independent from that of Britian.
Nelson is renowned for its clay deposits and the development of studio pottery was particularly significant in the region. Since the late 1950s Nelson has attracted New Zealand's leading ceramic artists and the Suter has a signficant collection of works by ceramic artists of national and local renown.
The well-stocked Suter Store is gateway to the regions artists and crafts people and provides a snapshot of what the region has to offer. Cards, postcards and Suter publications are available.
The Suter Te Aratoi o Whakatu is next to The Queens Gardens. A 5 minute stroll from the city centre.
Open every day (except Christmas Day) from 10.30 a.m. to 4.30 p.m.

View more Art Galleries Holiday Activities in Tasman - Nelson