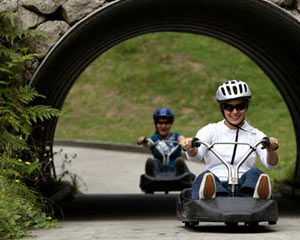 Click on the thumbnails below to view enlarged



You may drag the map or use the buttons to move/zoom

Download contact details to your Address Book
Average Rating:

(8 votes)

The Luge is a fun ride for all ages. A World 'First' proudly designed and built in Rotorua, the Luge is a fun filled gravity ride on a 3 wheel cart. The unique braking and steering system provides the rider full control and allows them to travel as fast or slow as they wish.
Three separate concrete sealed tracks wind down through the redwood trees. A scenic track with viewing bays at great locations for taking photographs allows a leisurely trip down whilst enjoying the panorama.
Fun for all ages with children under 6 being able to be carried in tandem. Riders return to the top of the luge on a specially designed chairlift.
Over 5 million riders have enjoyed the Luge ride experience to date. Full instructional information and key do's and don'ts are provided prior to riding the Luge.
Scenic Luge
Enjoy a 2 kilometre scenic downhill ride through the redwood trees, with plenty of rest areas to stop on the way down to take photographs. This is fun for all ages, and children under six can be carried tandem. Once you reach the bottom riders return to the top via a double seater chairlift. The Scenic Luge is an all weather attraction that is lit up for twilight luging during the summer months (see details below).
Intermediate Luge Track
The Intermediate Luge Track is 1.5 kilometres in length withh all the thrills that made the luge such a popular all age activity. The exhilarating ride features a tunnel, spirals, and awesome views over the city and lake. It is lit for twilight luging over the summer months.
Advanced Luge Track
The Advanced Luge Track is an exciting 1 kilometre ride downhill. This fast track has crazy dips and bends to ensure you an intensely fun time as you descend. It is suitable for all ages from 10 years upwards.
Twilight Luge
Over the summer months (generally January - March) luging is available until 8:30pm (dependent on conditions). Ideal over summer with guests able to enjoy the lakes of Rotorua during the day and then head to Skyline for some great twilight luging fun.

View more Luge Holiday Activities in Rotorua - Taupo