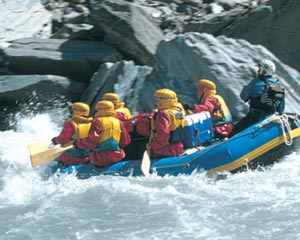 You may drag the map or use the buttons to move/zoom

Download contact details to your Address Book
Average Rating:

(1 votes)


Queenstown Rafting are the outdoor adventure activity and adrenaline specialists, offering numerous rafting and adventure packages, for a truly exciting and memorable New Zealand vacation!
A licenced operator, Queenstown Rafting is recognised as a leader in the field of river safety and proactive risk management. We actively contribute to the development of New Zealand rafting standards.
Our guides are fully licenced and are carefully chosen on the basis of their skill and experience, their ability to make sound decisions and their ability to communicate and identify with our clients.
Kawarau River Rafting 4 hours
Queenstown's Kawarau is the largest volume river rafted commercially in New Zealand, ideal for first-time rafters and adrenaline junkies alike. Stretches of quiet water allow ample time to practice paddling techniques, look at the scenery or get caught up in a friendly water fight. Four rapids -- Smiths Falls, Twin Bridges, Do Little Do Nothing, and of course, the unforgettable 400m Chinese Dog Leg, make this trip a great introduction to the thrills and adventure of white water rafting.
Shotover River Rafting 4½ hours
Year round adventure - except 1 June - 1 September, when Heli-Rafting is the only option. Begin with an unforgettable coach trip on the historic Skippers Road along old goldminers trails into Skippers Canyon, unparalleled in terms of scenery. Rafting from Deep Creek over peaceful waters at first, we head toward the exhilarating rapids of the lower Canyon, experiencing the memorable rapids Rock Garden, Sharks Fin, Toilet, Pinball, Jaws, Sequel and the unforgettable 170m Oxenbridge Tunnel, followed closely by Cascade Rapid.
Landsborough 3-day Adventure
The Landsborough Valley is one of New Zealand's most isolated specially protected areas – untouched, unspoiled, visited by only a privileged few. On your Landsborough Wilderness Experience you will raft silently down the Landsborough River as it flows from high alpine areas of the Mt Cook National Park to the Haast River in South Westland.
Triple Challenge Combination Trip
Jetboat, Heli and Raft the Shotover River. Pure Adventure!
Nevis Triple Challenge Combination Trip
Jetboat, Heli, AJ Hackett Nevis Highwire Bungy and Raft the Shotover River.
Twin Challenge Combination Trip
Rafting and Jetboating on Queenstown's famous Shotover River.

View more White Water Rafting Holiday Activities in Queenstown - Wanaka