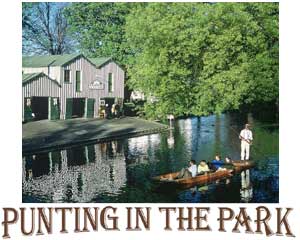 Click on the thumbnails below to view enlarged


You may drag the map or use the buttons to move/zoom
Punting in the Park
Address:
Antigua Boatsheds, 2 Cambridge Tce
,
Christchurch
Canterbury
New Zealand
Phone:
(03) 3660 337
Website:
http://www.punting.co.nz/

Download contact details to your Address Book
Average Rating:

(2 votes)

Sink back into the velvet cushions of your boat, as the Edwardian punter propels you past the trailing willows and leafy banks of the prettiest stretch of the Avon River. Relax with Punting in the Park and take in the sights.
An authentic Edwardian punting experience in keeping with the special English character of the city of Christchurch, New Zealand is something everyone must experience.
Our smallest punt comfortably seats 6 adults and our largest seats 12. We have 5 punts, and can accommodate up to 44 adults at one time. We will allocate the appropriate number of punts for the size of your group. Our knowledgeable and professional punters give an informative and entertaining guide to the Avon River and Botanic Gardens.
Along the river you see a variety of wildlife: swans, scaup ducks, paradise shellducks, grey and mallard ducks, eels and trout.
Punting in the Park is not licensed to sell food or drink, but you are welcome to bring your own refreshments. Let us know if you need champagne flutes, and we will supply those.
Punting in the Park operates from the historic Antigua Boat Sheds. The old boat sheds' green and white striped exterior is a well-known Christchurch landmark and is an easy 3-minute walk from the Museum, Botanic Gardens, Arts Centre and Tram stop, and a 10-minute stroll from Cathedral Square.
Booking is recommended, especially in the summer months.
Operating hours:
Summer 9am - 6pm
Winter 10am - 4pm
(Closed Christmas Day)

View more Family Fun Holiday Activities in Canterbury