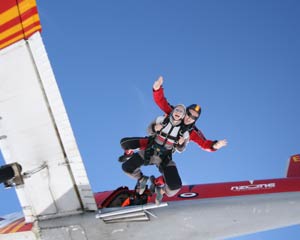 Click on the thumbnails below to view enlarged




You may drag the map or use the buttons to move/zoom
Nzone Skydive Rotorua
Address:
Rotorua Airport
,
Rotorua
Rotorua - Taupo
New Zealand
Phone:
(07) 345 7520
Website:
http://www.nzone.biz/

Download contact details to your Address Book
Average Rating:

(0 votes)

It takes a certain kind of person to jump from an aircraft at 15000ft into thin air. It takes courage. Harnessed by space age materials to an experienced qualified Jumpmaster, YOU STEP OUT THAT DOOR AND FOR SOME 60 SECONDS YOU PLUMMET TOWARDS THE GROUND AT 200KPH. Terminal Velocity. The Jumpmaster will the deploy the reinforced tandem canopy controlling your descent.
Expect sensory overload as your mind/soul/body fight against every natural self-preservatory urge. The impact on your life that the act you are now contemplating will have can not be overstated. The personal challenge is immense. Immense, because the only thing preventing you from enjoying this, one of the most primal like shaping experiences, is your own mind.
Using the latest state of the art equipment we recommend you commission us to shoot, edit and compile a complete documentary of your NZONE experience. Our freefall photographer will jump with a camera/video on their skydive helmet. DVD and photos are yours, to take away on the day, in a presentation pack complete with certificate of accomplishment. You will have earned it.
Operating since 1990, Nzone have jumped over 170,000 tandems.
Achievement doesn't come sweeter.

View more Skydiving Holiday Activities in Rotorua - Taupo