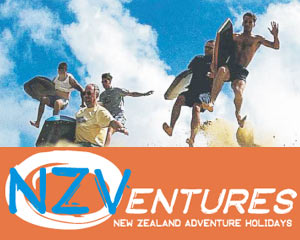 Click on the thumbnails below to view enlarged




You may drag the map or use the buttons to move/zoom

Download contact details to your Address Book
Average Rating:

(0 votes)


Whether you want to climb icy glaciers, go skydiving over picturesque lakes, feel the thrill of jet boating or get up close and personal with the Maori Culture, the options are endless and New Zealand has it all. With NZVentures, your New Zealand adventure couldn't be in better hands.
NZVentures Adventure Holidays combine fun and relaxed New Zealand travel with a range of activities and comfortable accommodation. Travelling with the award-winning Magic Travellers Network, your driver will show you the real New Zealand and all those hidden gems only the locals know about. Learn about the places you pass by, make regular stops for activities, meet other like-minded travellers and check out the scenery on offer.
All NZVentures holidays include flexible budget travel with guaranteed private rooms and a range of free inclusions, all geared to make your New Zealand backpacker or Gap Year experience an unforgettable one!
Most importantly freedom of choice is the key – we understand the need for free time and have included it in your adventure tour, so you can decide what is important to you and get out there and do it. Sit back and relax, let us take the stress out of organizing your New Zealand holiday.
Our New Zealand adventure holidays can also be easily modified to suit your needs, simply let us know and we can tailor something specifically for you.
NZVentures Independent Adventure Holidays Options:
Top Tip 3 Day Northland Adventure Tour (4 departures per week)
Venture South 4 Day Auckland to Christchurch Adventure Tour including TranzCoastal train
Northern Steam 5 Day Adventure tour Rotorua and Northland (4 departures per week)
Venture North 6 Day Adventure Tour of the North Island
Venture West 7 Day South Island Adventure Tour including TranzAlpine train
Whale of a Time 9 Day South Island Adventure Tour
Head to Toe 11 Day New Zealand Adventure Tour
Top Tail 16 Day Adventure Tour of New Zealand

View more Adventure Holiday Activities in North Island