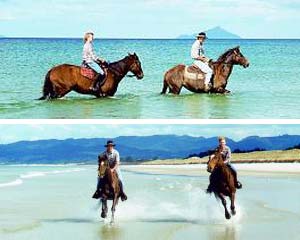 Click on the thumbnails below to view enlarged



You may drag the map or use the buttons to move/zoom
North River Horse Treks
Address:
Helmsdale Road
,
Waipu
Northland
New Zealand
Phone:
(09) 432 0565
Website:
http://www.ridenz.com/

Download contact details to your Address Book
Average Rating:

(0 votes)

Do you want to get away from it all? The city, the noise, the crowds and work.
North River Horse Treks can take you away from it all, giving you a chance to unwind, de-stress, relax and take in a slice of nature from horseback.
The vast variety of the terrain will fascinate you. With access to over 40 kms of trails, on approximately 5000 acres of land, there is much scope for trekking. From fertile river flats to green sheep farms, with panoramic views of the coast and outer islands; from a stony bottom river valley surrounded on both sides by steep bush-clad hills coloured in every shade of green imaginable to 14 kms of white, unspoiled sandy beach.
There is something for everyone, from a 1-hour meander along the North River to a full on overnight adventure.
All the while on a horse carefully chosen to match your own riding level, whether that be a complete novice or an accomplished rider.
North River Treks fully trained; experienced and friendly KiwiHost guides make it their business to tailor the trek to suit your abilities and expectations with emphasis on safety and enjoyment.
The adventure doesn't stop there; with the treks 1 day and longer you also have an excursion into the glow worm grottos of the Waipu Caves. Along with this a chance for you experience the hospitality and cooking of your guide. All this is available you, whether you are a group of one or one of a group. Bring your family, your friends, or even your staff.
Ian and Anna Benson welcome you to share their little slice paradise and to create something especially for you.
North River Treks is only 10 minutes from Waipu and just 25 minutes from Whangarei.

View more Horse Treks Holiday Activities in Northland