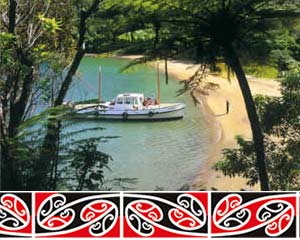 Click on the thumbnails below to view enlarged





You may drag the map or use the buttons to move/zoom
Myths & Legends Ecotours
Address:
316A Waikawa Rd
,
Picton
Marlborough
New Zealand
Phone:
(03) 573 6901
Website:
http://www.eco-tours.co.nz

Download contact details to your Address Book
Average Rating:

(0 votes)

Myths and Legends Ecotours offer personalised ecotours in the beautiful sheltered waterways of the Queen Charlotte Sounds, Picton, New Zealand. Join Pete, his wife Takutai and son Tane who run Myths & Legends Eco-Tours in the Marlborough Sounds. They are a Maori Family who operate personalized Eco-Tours on a 75 yr old Kauri planked classic launch called "Tutanekai" that has a character and charm that makes people feel comfortable and relaxed.
Myths & Legends Ecotours visit remote bays & inlets far from the usual tourist beat, using local knowledge you will visit dolphins, seals, bird colonies a shipwreck, Island bird Sanctuary, Wildlife Sanctuary, Derelict Whaling Station, Captain Cooks Monument & Guided Bush walks through native forests. Have a beachcomb, a paddle or swim at a secluded beach & relax & unwind. If you are travel weary Takutai will put soft cushions under you, wrap you in a warm duvet, and let the ocean waves rock you off to sleep. This is pure relaxation.
Myths & Legends Ecotours cruise is very educational, an opportunity for tourists to interact with Maori, learn about our culture, our history, & learn about the Maori world view regarding the environment. Our kaupapa is to keep the lost art of story telling alive, the old people say that stories stimulate dreams & if we lose the ability to dream our spirits will die.
One of the great attributes of the Marlborough Sounds is that it is a sheltered inland waterway, so for those of you who worry about seasickness, don't. Nobody has ever been seasick on their trips inside the Sounds. If chilly,Takutai will serve up some homemade soup & make some hot Maori bread. If the tides are right, they will gather you some green lipped mussels off the rocks or get you to wade out and collect some cockles, which go down well with a bottle of Marlborough Wine.
Options with Myths & Legend Ecotours include:

half day cruises
1 day cruises
1 day exclusive charter
1 and a half overnight charter
2 day overnight charter
cultural indulgence
Don't sit on a cruise with 50 or more people and be treated like sheep, experience manakitanga (Maori hospitality), they often take charters for 2 people!

View more Scenic Tours Holiday Activities in Marlborough