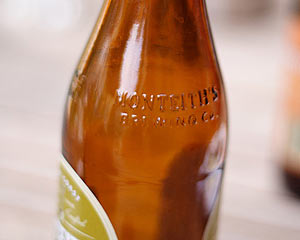 Click on the thumbnails below to view enlarged





You may drag the map or use the buttons to move/zoom
Monteith's Brewhouse Tour
Address:
Corner Turumaha & Herbert Streets
,
Greymouth
West Coast
New Zealand
Phone:
+64 03 7684149
Website:
http://www.monteiths.co.nz/

Download contact details to your Address Book
Average Rating:

(0 votes)

The Monteith's Brewery Tour was created so you can experience, firsthand, the foundation of Monteith's Family of Fine Beers. From humble beginnings in 1868, Monteith's became the West Coast's most popular brewery for it's strong tasting, full-bodied ale. Renowned the world over, Monteith's continues to produce beers that are made to exacting standards and capture the spirit of the world's most famous beers and, in some cases, forgotten favourites, that are all but forgotten.
Almost 150 years on and Monteith's still uses the same brewing traditions. On the tour you will witness how they use coal fired boilers and open fermenters so the that the brewers can see and smell the beer as it matures. You will see how the time-honoured traditions live on with the brewer nuturing small batches of beer to coax out the full natural flavours.
This tour is educational and interesting. From the raw ingredients, through to the beer finally emerging, you will see all the steps involved. Monteith's beer is of such high quality that the bottles are filled without pasteurisation to keep the natural aroma and taste intact. All that's left is tasting… for the purposes of quality control.
Having learnt of each beer's origin and taste profiles, you be able to fully enjoy each drop like a knowledgeable connoisseur. Below are a few of popular beers that you will try at the tasting:
Monteith's Radler Bier is a refreshing 'fruity lager beer', in the heritage of the beer style first brewed in Bavaria in the 1920s. It is a unique, easy drinking beer with a citrus twist — flavoured with natural lemon juice and lime.
Monteith's Richly Hopped ORIGINAL ALE rewed to the same Monteith's family recipe since 1868, Monteith's Original Ale is considered a 'pale ale' in the heritage of beers brewed last century. Monteith's Original Ale has a solid malty characteristic tending to the dark crystal malt range, with notes of caramel or burnt sugars and some fruity/berry-fruit notes in the aroma.
Monteith's Black Beer is in a league of its own in the heritage of very dark West Coast beers. By today's standards, Monteith's Black Beer is distinctive, with a higher alcohol content than mainstream beers and a crisp dark saltiness. This complex malty characteristic shines through from the use of five different premium malts. With biscuit, nutty caramel, chocolate and coffee malt characteristics.
Monteith's Pilsner Beer is a 'Bohemian-style lager' in the heritage of extremely hopped blonde beers brewed in parts of Eastern Europe. It has a complex hop aroma and a rich hop bitterness characteristic of this tradition in brewing. Monteith's Pilsner Beer has a malty quality that includes smooth caramel characteristics from the use of Vienna-style crystal malts. The key flavour is its enormous hop character, crafted around this complex malt flavour.
Thirsty? For tour booking phone (03) 768 4149. Brewery tours are available:
Monday to Friday at 10am, 11.30am and 2pm
Saturday & Sunday 11.30am & 2pm

View more Brewery Tours Holiday Activities in West Coast