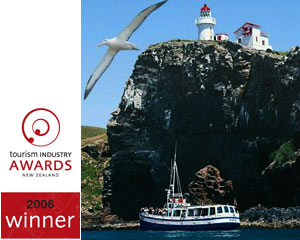 Click on the thumbnails below to view enlarged



You may drag the map or use the buttons to move/zoom
Monarch Wildlife Cruises & Tours
Address:
Corner Wharf & Fryatt Streets
,
Dunedin
Otago
New Zealand
Phone:
(03) 477 4276
Website:
http://www.wildlife.co.nz/

Download contact details to your Address Book
Average Rating:

(0 votes)


The abundance and diversity of wildlife makes a Monarch Wildlife Cruise different - a truly multi-species tour (10 - 20 species) on a sheltered harbour that sparkles with scenic beauty, gems of geology and a colourful heritage.
Passengers board the Monarch to see what cannot be seen from land, to greet the mighty Northern Royal Albatross as it sweeps in from the open Pacific Ocean and soars above the spectacular inaccessible cliffs of Taiaroa. These escarpments are alive with eight other species of birds nesting above families of Fur Seals. Close offshore, huge flocks of Sooty Shearwaters feed among other Shearwaters, Petrels and other species of Albatross.
Our informative commentaries, fact sheets and guides will enable you to identify species, interpret behaviours and enhance your understanding of the wildlife and geographical features.
Jackets and binoculars, a variety of food and refreshments, plus a fully licensed bar all add to passenger comfort.

View more Water Tours Holiday Activities in Otago