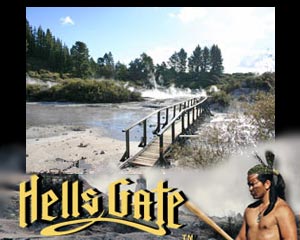 Click on the thumbnails below to view enlarged



You may drag the map or use the buttons to move/zoom
Hell's Gate & Wai Ora Spa
Address:
State Highway 30
,
Tikitere, Rotorua
Rotorua - Taupo
New Zealand
Phone:
(07) 345 3151
Website:
http://www.hellsgate.co.nz/

Download contact details to your Address Book
Average Rating:
(3 votes)


Hell's Gate, just out of Rotorua, on New Zealand's volcanic plateau, is a place of geothermal activity so pronounced, including erupting geysers, steaming fumaroles, mud pools and hot geothermal waters. Hell's Gate offers the visitor numerous options, from walking the Geothermal Reserve Walk, to a Mud Bath, or a Sulphur Spa, to Massage.
Hell's Gate Tikitere is a unique place of extreme contrasts. You will see remarkable formations and colours, cascading hot water and unearthly vistas, even examples of "land coral".
Hell's Gate Geothermal Reserve is set in 50 acres with a large variety of geothermal features. Walk past steaming fumeroles and pools of boiling MUD so violent they are unnerving. Follow the footsteps of ancient Warriors through the swirling clouds of steam, past the pool where the Maori Princess "Hurutini" lost her life, see the violent geothermal activity of the Inferno and the Kakahi Falls, the largest hot waterfall in the Southern Hemisphere.
The unique geothermal muds and waters of Rotorua are renown for their curative and invigorating properties—and this is particularly so at "Hell's Gate" - Rotorua's most active geothermal reserve.
There are three private mud baths in the Wai Ora ("Healthy Waters") Spa Facility – one family and two three-person baths each containing in excess of 70-100kgs of the finest geothermal muds in both suspended and solid form. After your mud bath, visitors can then go into the "North Island" shaped sulphur spa or the deeper "South Island" shaped sulphur spa, both with their own hot water falls to relax and revitalize.
The facility has eight purpose-built treatment rooms that impress on the client the sense of New Zealand and all that it offers down to the Manuka (New Zealand's native Tea Tree) oil essence that gently permeates the rooms. You can choose from a number of treatments including: mud facial, massage, and body scrub and mask. Two of the rooms have been specially set up for couples or 'honeymooners' who wish to share this unique massage experience.
Open every day: 8:30am - 8:30pm

View more Thermal Pools Holiday Activities in Rotorua - Taupo