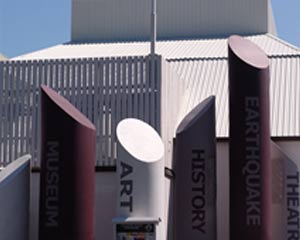 You may drag the map or use the buttons to move/zoom

Download contact details to your Address Book
Average Rating:

(0 votes)

Visit Hawke's Bay Museum to experience the best of Art, Culture and Heritage in the Bay. Discover great exhibitions, fascinating collections and wonderful treasures from our rich past as well as challenging contemporary shows of art and craft.
Some of what to see at the Hawke's Bay Museum...
Art Deco Style
An exhibition showcasing our fabulous Art Deco collection. Art Deco redefined the way the world looked. It influenced all design - buildings, aircraft, vehicles, furnishings, fashion, and homeware - to create a 'modern world'. This exhibition focuses on the multiple styles and influences of the Art Deco movement. It highlights key designers whose work epitomises the spirit of the period.
Once Were Dinosaurs
Follow the discovery of the ONLY terrestrial dinosaur remains ever found in New Zealand by Hawke's Bay's famous 'dinosaur lady', Joan Wiffen. Watch the video and join Joan and her dedicated band of amateur palaeontologists as they uncover the unique remains of giant creatures such as Dryosaur, Meglasaur, Plesiosaur and Pterosaur in the Maungahouanga Valley of Northern Hawke's Bay.
Nga Tukemata
Learn about the local Maori people, through their special treasures (taonga) in Nga Tukemata - The Awakening. You will begin to understand how the present living culture has spiritual links with the past through people, words, tools and artworks. These treasures are inspiring.
Hawke's Bay Museum is more than just a museum...
Satisfy your shopping urges with stunning NZ made gifts
Enjoy wonderful world-class films in the Century Cinema
Experience delightful musical events in the Century Theatre
Study in the Berry Historical Library and Regional Archives
Savour delicious locally-made Rush Munro ice cream
Hours of Opening
7 days 9am - 5pm
Summer hours 10am to 6pm from 26 October to Easter

View more Museums Holiday Activities in Hawkes Bay