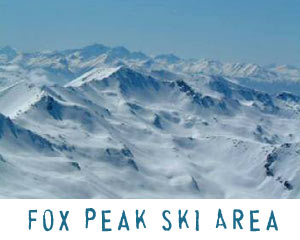 Click on the thumbnails below to view enlarged

You may drag the map or use the buttons to move/zoom

Download contact details to your Address Book
Average Rating:

(0 votes)

Fox Peak is a club field renowned for its friendliness, mountain accommodation, wide-open spaces and huge runs for all levels of enthusiast. The field is sited beneath Fox Peak the highest point on the giant Two Thumb Range close to midway of the Christchurch Queenstown Highway. You can easily see the 7300 ft mountain from most parts of South Canterbury.
Four rope tows total over 2km in length provide you with a fabulous 580 metres of vertical lift - the highest in the region. Any patron will be willing to assist you operate the nut crackers correctly to ensure you will soon master them and that have access to many exciting club ski and boarding areas.
The new Meadow Platter is planned for 2007.
You can save yourself time and travel cost by staying on the mountain at Fox Lodge (backpacker style) or you can enjoy excellent accommodation and services in Fairlie just 36 kms away.

View more Skiing & Snowboarding Holiday Activities in Canterbury