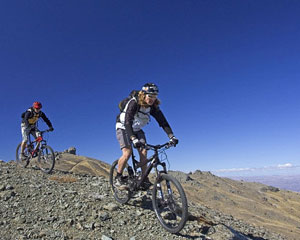 Click on the thumbnails below to view enlarged




You may drag the map or use the buttons to move/zoom
Fat Tyre Mountain Biking
Address:
P O Box 100
,
Arrowtown
Queenstown - Wanaka
New Zealand
Phone:
0800 328 897 (NZ only)
Website:
http://www.fat-tyre.co.nz

Download contact details to your Address Book
Average Rating:

(0 votes)

Queenstown - New Zealand's Major Mountain Biking Destination. Ride some of the sweetest New Zealand mountain bike trails. Fat Tyre mountain biking is about you - we make every day a Saturday! Queenstown's only full time mountain bike guiding company.
We specialise in wicked heli-biking, epic natural single track day trips and dirty weekend mountain bike tours that will leave you salivating for more. It's difficult to put a title on trails we ride –But it is Back country (high mountains with sheep tracks and farm tracks, no trees - just open and rocky)
We like to think of our trails as Mother Nature's ultimate terrain park - we take you to great tracks and trails no one else gets to – huge descents through high country farms with stunning scenery. These are not trails that you will be able to get to yourself, we have access to private land, no crowds on these trails!
With an unbeatable range of local terrain, not limited to the trails you could find yourself. Because we are totally flexible we tailor the rides to suit you - check out our Ride Options (link above to website) for more information.
Our guides have an infectious passion for the trails they ride and they are real guides (not seasonal travellers). Fat Tyre will take you to amazing trails that are exclusive to Fat Tyre Mountain Biking or that most people don't know exist.
Heli-biking trip - all of our rides can be Heli accessed, but check out our three main heli bike trips, on our heli bike page. Our landings at 1600m to 2010m above sea level are just the beginning of an epic trail experience. Fat Tyre has seven heli biking options to choose from so we can tailor rides to suit you.
Day ride options -The 4x4 drive to the trail head is a journey in itself and a cheaper, more flexible option than heli-access. Just because we drive rather than fly does not change the fact the rides are amazing.
Small group numbers. We have a limit of seven riders for the 4x4 accessed trips and five riders for the heli-biking.
The Ultimate - "The Dirty Weekend" (3 days)
Three days of amazing back countryriding on farm and sheep single tracks
Classic kiwi accommodation
Almost 6000m descent!
Wicked Fat Tyre Heli bike
Perfect for a bunch of biking buddies wanting a big, fun mountain biking weekend adventure.

View more Sports Holiday Activities in Queenstown - Wanaka