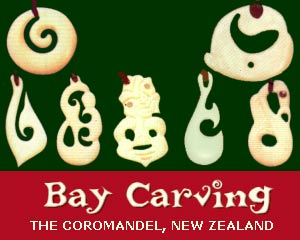 Click on the thumbnails below to view enlarged

You may drag the map or use the buttons to move/zoom

Download contact details to your Address Book
Average Rating:

(2 votes)

Welcome to Whitianga on The Coromandel - home of New Zealand´s first and best known "Carve your own" studio, Bay Carving. Maurice the World Renowned Carver will guide you every step of the way, so you can produce your very own high quality personal souvenir of your visit to Whitianga.
When it comes to tutoring travellers in the ancient art of bone carving, we promise to provide you an unforgettable experience that combines the thrill of making your own high quality carving with the joy of owing a uniquely New Zealand souvenir.
There is over 100 designs that you can pick from. The cost of the carving visit depends on which design you choose.
There is also a huge range of bone carvings available for sale at factory prices.
You will need to allow 2 to 3 hours for your visit to Bay Carvings.
"I never thought I´d be able to make such a beautiful thing! Thanks a lot."
- Patricia Maris, Holland
"Wonderful Place, wonderful people and wonderful work."
- Petra Midel, Bad Liebeuzell, Germany
"Best way to spend you day. My favourite day in NZ."
- Julie Campbell, Vancouver, Canada

View more Cultural Holiday Activities in Coromandel