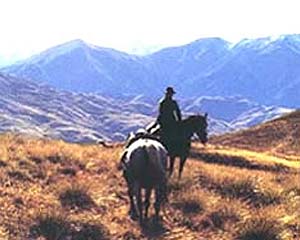 Click on the thumbnails below to view enlarged


You may drag the map or use the buttons to move/zoom
Backcountry Saddle Expeditions
Address:
Cardrona, RD1
,
Wanaka
Queenstown - Wanaka
New Zealand
Phone:
(03) 443 8151
Website:
http://www.ridenz.com/

Download contact details to your Address Book
Average Rating:

(0 votes)

With Backcountry Saddle Expeditions riders can see at close hand the historic Cardrona gold mining area while riding striking appaloosa horses.
History surrounds you in the Cardrona Valley and the guides at NZ Backcountry Saddle Expeditions are well versed in the colourful past of the area. Old gold workings and water races dot the hillsides and evidence of a bygone era is scattered along the ride. A sense of pioneering is felt when you meander along the Cardrona River up into the tussock-covered high country. It's not until you gain the altitude that you realise how much untamed country is around you. The views are spectacular especially throughout the seasonal changes.
NZ Backcountry Saddle Expeditions is 27km from Wanaka and 40km from Queenstown via the Crown Range and the historic Cardrona Valley. Operating with western saddles and Appaloosa horses ensures a safe and comfortable ride.
Catering for all ages and abilities treks depart daily with a minimum of two people per ride. Trek options are two hours or full day.
All treks are guided with opportunities to trot and canter. A high standard of safety is important, and the guides are first aid trained and safety helmets are supplied.
A courtesy coach is available from Wanaka.

View more Horse Treks Holiday Activities in Queenstown - Wanaka